Champions League - Hunter (AEK) claims yet another MVP of the Week honor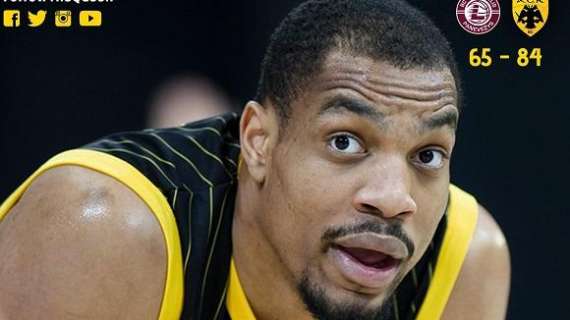 There's a given when it comes to the MVP of the Week. Just as we know the sun will rise each and every day, we also know that Vince Hunter is going to contend for the honor which goes to the standout performer after every Gameday in the Basketball Champions League.
From his first season in the Basketball Champions League with Avtodor Saratov, when he often caught alley-oop passes and dunked in sensational fashion, to last year when he ran up and down the floor for AEK on the way to the club's first title in the competition, to now - the gravity-defying Hunter has been pure joy to watch, at least for AEK's fans and all neutral observers.
Hunter, the MVP after Gameday 4, and Gameday 12, has done it again.
The 24-year-old power forward on Tuesday night made 12 of 13 shots from the floor on his way to 25 points and also had 8 rebounds, 5 assists, 3 steals and 2 blocks in an 84-65 victory at Lietkabelis to earn his third Gameday MVP. No player had won been MVP of the Week three times in the Regular Season until now.
<blockquote class="twitter-tweet" data-lang="it"><p lang="en" dir="ltr">25 Pts | 8 Reb | 5 Ast | 3 Stl | 2 Blk<a href="https://twitter.com/hashtag/MVP?src=hash&amp;ref_src=twsrc%5Etfw">#MVP</a> <a href="https://twitter.com/hashtag/AEKBC?src=hash&amp;ref_src=twsrc%5Etfw">#AEKBC</a> <a href="https://twitter.com/hashtag/BasketballCL?src=hash&amp;ref_src=twsrc%5Etfw">#BasketballCL</a> <a href="https://twitter.com/2easy32?ref_src=twsrc%5Etfw">@2easy32</a> <a href="https://t.co/EiiEGk60KP">pic.twitter.com/EiiEGk60KP</a></p>&mdash; AEK B.C. (@aekbcgr) <a href="https://twitter.com/aekbcgr/status/1090353170377859073?ref_src=twsrc%5Etfw">29 gennaio 2019</a></blockquote>
<script async src="https://platform.twitter.com/widgets.js" charset="utf-8"></script>