Champions League - Fabulous Feldeine named Gameday 5 MVP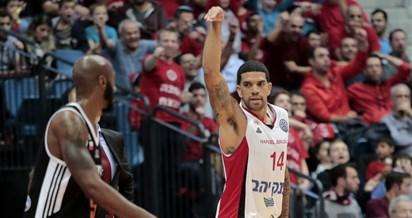 Hapoel Bank Yahav Jerusalem's James Feldeine wasn't a big name in the basketball world when he left Quinnipiac University eight years ago but make no mistake, everyone in Europe knows who he is now.
He's making a habit of turning in big performances on the old continent, and doing so in places where the sport is followed with a religious fervor.
The latest points explosion came on Wednesday night in a home game against CEZ Nymburk. He set the tone by making shot after shot and ended up drilling 9 from long range on his way to a jaw-dropping 35 points.

"I've had a few games like this," he said.
"The first one (shot) went in and I felt good. So coach (Oded Kattache ) gives me a lot of confidence. The whole team, the whole staff gives me a lot of confidence, lets me shoot those shots. Tonight (Wednesday), they went in."
The 30-year-old also had 5 rebounds and 4 assists, taking his efficiency rating to +39. He has not surprisingly scooped the honor as the Gameday 5 MVP.