Champions League - AEK Athens dominates over Sassari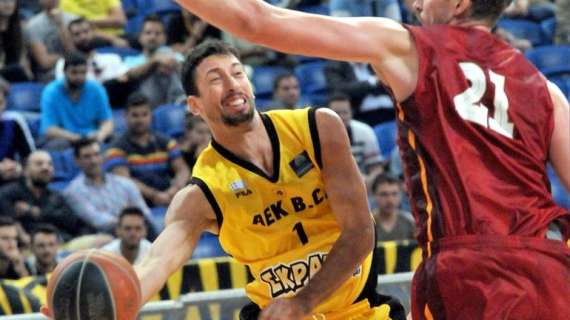 Tough loss also for the other italian club in Champions league Dinamo Sassari that has lost against AEK Athens. First quarter finished 27-13 and since it the greek club have dominated the game that is finished 78-58.
AEK ATHENS: Ukic 11 pt, Sakota 10 pt, Vasileiadis 8 pt, Milosevic 7 pt, Dixon 13 pt, Larentzakis 2 pt, Falker 2 pt, Moraitis ne, Mavroeidis 10 pt, Skoulidas 0 pt, Williams 15 pt, Tsalmpouris 0 pt. Coach: Jure Zvodc.
DINAMO SASSARI: Johnson-Odom 17 pt, Lacey 4 pt, Devecchi 0 pt, D'Ercole ne, Sacchetti 5 pt, Lydeka 10 pt, Savanovic 9 pt, Carter 0 pt, Stipcevic 5 pt, Olaseni 3 pt, Ebeling ne, Monaldi 5 pt. Coach: Federico Pasquini.