Leiden guard Thompson sets new season-high in points to headline Top Performers
Source: FIBA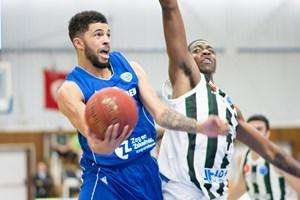 The leading FIBA Europe Cup scorer Darius Thompson delivered points in bunches for ZZ Leiden in a victorious overtime thriller against Sakarya BSB, earning the right to headline the Top Performers after reclaiming the season record for scoring.
Having been the first player to reach the 30-point mark in the Qualifiers, the 23-year-old rookie guard exploded for a season-high 36 points on efficient 13-of-18 shooting from the floor, as Leiden turned around a 17-point deficit to come out with a 99-97 victory.
Thompson got hot in the extra period, knocking down four three-pointers in the last five minutes of play, including the game-winning basket with 18 seconds left, to take his overtime tally to 14 points.
To complement his record-breaking night, the ZZ Leiden scoring ace also added 2 rebounds, 4 assists, 2 steals and a block for a league-best efficiency ranking of 36 this week.